It goes without saying that spending time around nature can have soothing effects. Consecutively, seeing it as well can bring us a sense of calmness. With that being said, the place we spend a significant amount of time is our offices, and having a picturesque view of nature during work is a dream to many.
"There is a pleasure in the pathless woods,
There is a rapture on the lonely shore,
There is society, where none intrudes,
By the deep sea, and music in its roar:
I love not man the less, but Nature more"
Lord Byron, who, inspired by Switzerland's Château De Chillon, wrote the poem The Prisoner of Chillon, also wrote the poem above, capturing the necessity of nature to humans.
A study has found that natural light in offices leads to employee wellbeing — with a 51% drop in eyestrain, 63% reduction in headaches, and 56% reduction of drowsiness in participants who spent workdays in natural lit offices.
Due to 2020's Covid-19 pandemic that has been around well into 2021, many people show interest in spending more time outside, as they were conditioned to spend a good amount isolating. Additionally, Covid-19 has impacted coworking spaces in unexpected ways. Although there were significant losses during the pandemic, many company owners are hesitant to sign long-term leases , thus turning to more flexible options such as coworking spaces.
With Switzerland being wealthy in natural beauty, we decided to reimagine the most famous sites, according to data gathered from Google Trends and social media, as views outside coworking space offices, and here's what they look like.
1. Zermatt, Matterhorn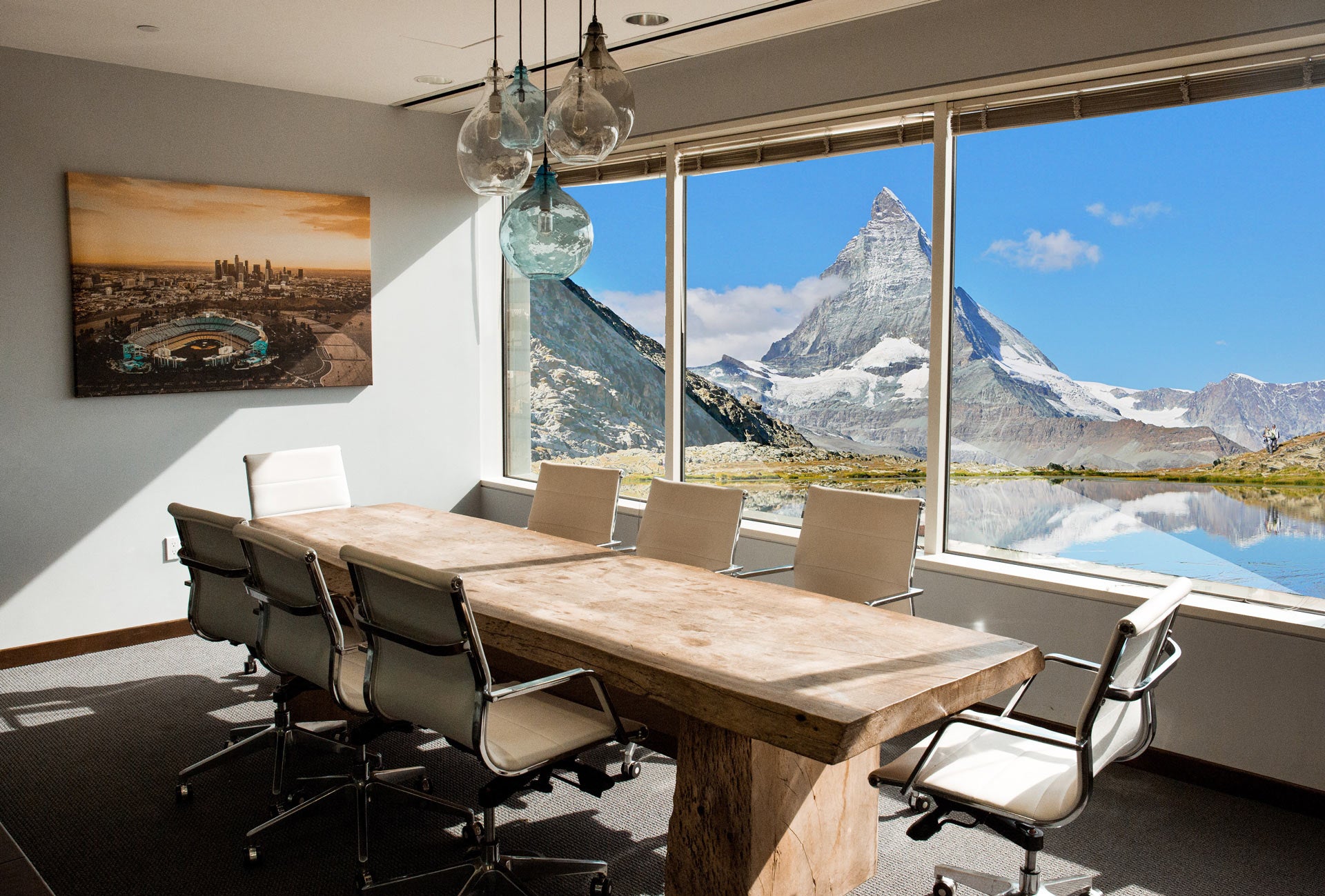 When we think of Switzerland and nature's gifts to the country, Matterhorn is one of the first names to ring a bell in our heads. Its fame precedes Switzerland, and it is one of the more well-known mountains across Europe attracting a great deal of attention from alpinists each year, and according to our Google Trends data, it also attracts the highest number of searches for Swiss places excluding major cities.
Due to the high position it occupies, Matterhorn is home to a few attractions that make the top of many European lists. To name a few , such is the Matterhorn Glacier Paradise which has the highest cable car station in Europe at 3,883m, the Matterhorn Museum, which displays Zermatt's history, and it's spread across three of the Five Lakes Walk — a well-known hike trail .
Known for its scenic properties, we can imagine hikers and skiers making the most out of what Matterhorn has to offer. However, have you ever thought about what this panorama would look like while standing right outside your office window? Here's a hint.
2. Lauterbrunnen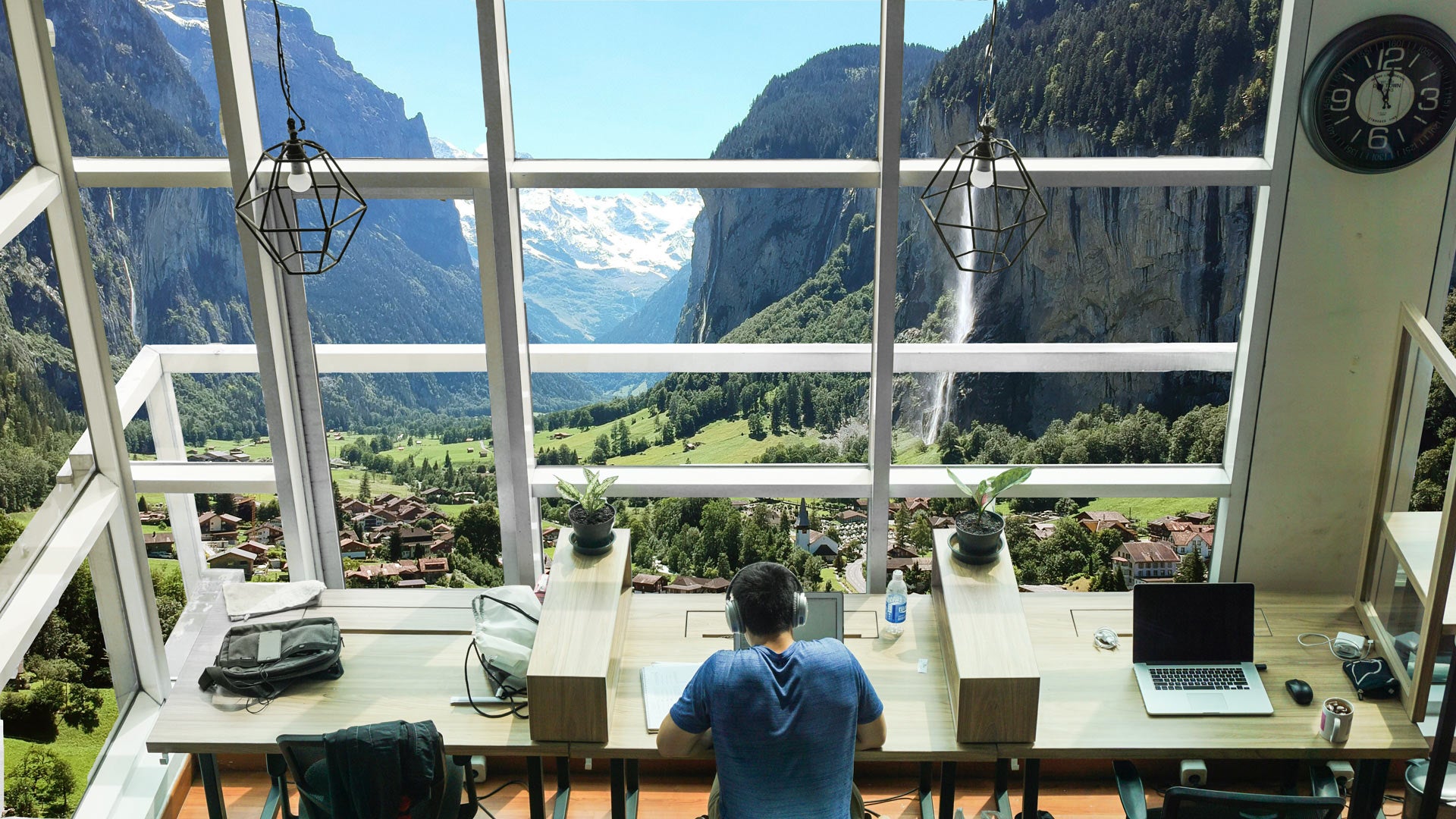 Lauterbrunnen — translated to mean many fountains — if second on our list of famous Swiss places, according to Google Trends. As the name suggests, Lauterbrunnen is a landscape that offers a whopping 72 waterfalls , with the most notable being Staubbach Falls falling 300 meters from an overhanging rock; it's one of the highest European free-falling waterfalls.
This magical place of cascading water has much to offer during both winter and summer. On warm summertime days, its beauty can be enjoyed in Trümmelbach Falls, which hides behind voluminous rock faces and can only be enjoyed with a tunnel lift, and the numerous valley landmarks that highlight throughout Lauterbrunnen accessible by trains. Whereas, during winter, you can revel and enjoy Lauterbrunnen's cross-country ski trails, hiking trails, and many expansive ski regions reached by mountain railways.
With so many sites to offer, who wouldn't want to rent out a coworking space that looks ahead at some of the most memorable Swiss sites?
Well, here's how one of those sites would look like through an office's window. All we have left to imagine is the sounds of water hitting the ground as we take on the assignments of our workday.
3. Interlaken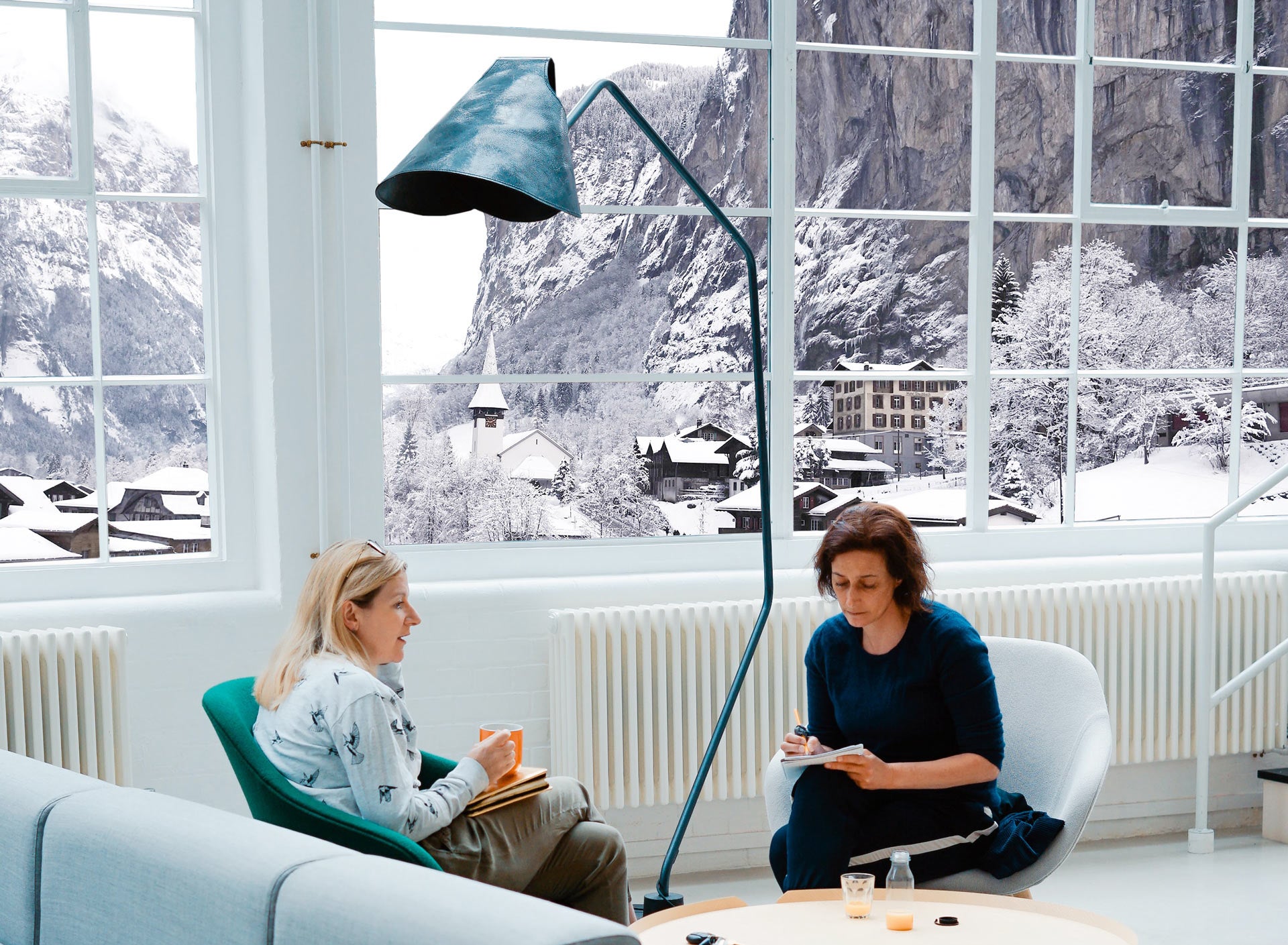 Interlaken — when translated from German means between lakes — is the third most famous landmark in Switzerland, and it is very rich in the beauty it has to offer. The two lakes it stands between are Thun to the west and Brienz to the east. Along with that, Interlaken is a well-known spot among Swiss Alps for its transport gateway properties to the lakes and mountains of the Bernese Oberland region.
The reputation of being an international tourist attraction Interlaken has to this day started out in 1800 due to various landscaping artists' work, one of them being Franz Niklaus König. The modern Interlaken, however, has rebranded itself after World War Ⅱ, as a conference and convention center, which is home to picturesque views.
We've taken one of those views and put it right outside a coworking space's window. Here's what a winter day would look like in our reimagined Interlaken space.
4. St. Mortiz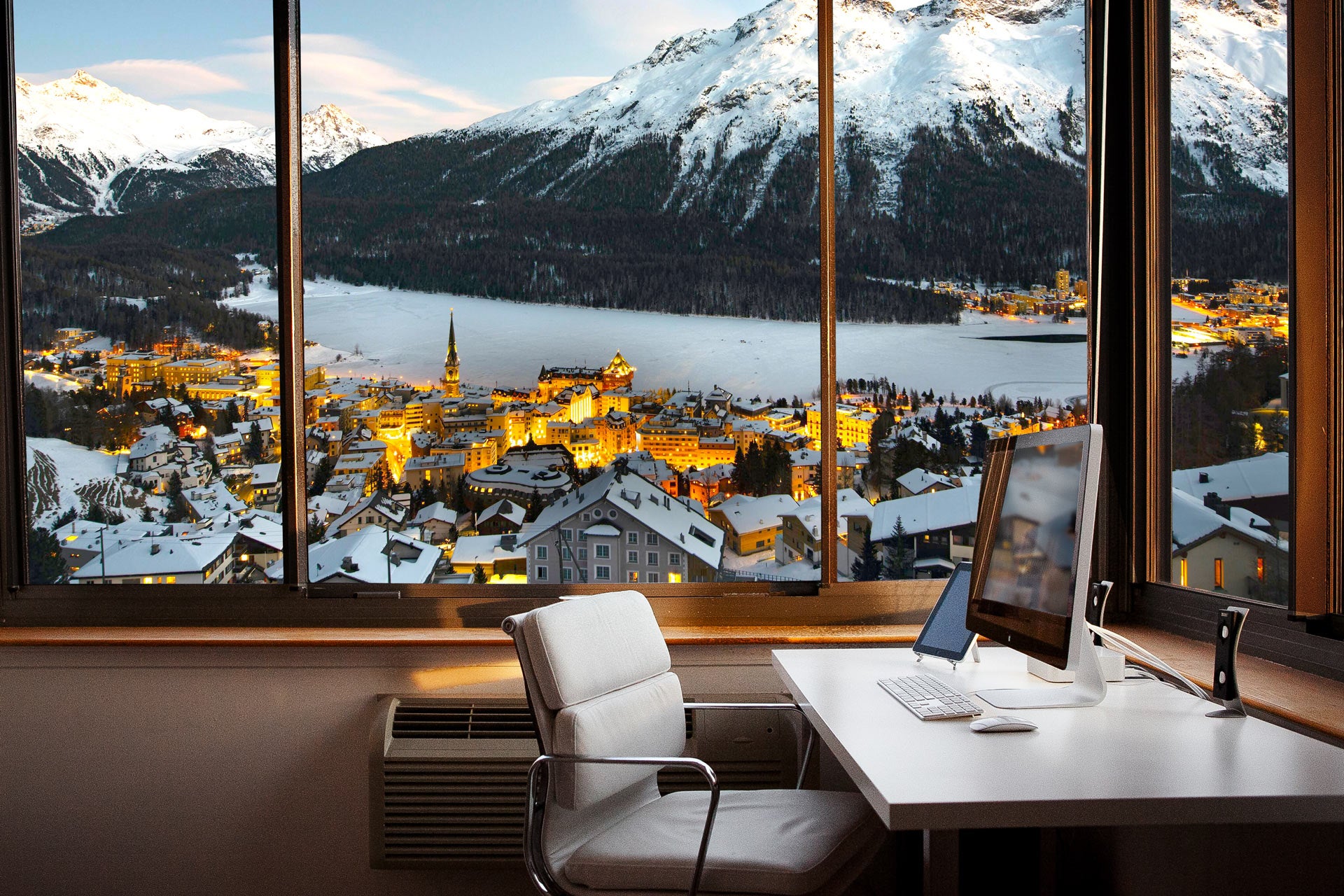 When the St. Moritz name comes up , numerous famous names and historical shenanigans spring to mind. Some of these include Roger Moore as James Bond racing down the slopes, Alfred Hitchcock's inspiration, and Bridgit Bardott's romance with Gunter Sachs.
The town is well known for its history of spa and bathing traditions which transformed into the reputation of having healing mineral springs and later on became a tourist hotspot thanks to hotelier Johannes Badrutt. Badrutt's promise to his guests to offer a jacketless experience even on non-summertime days was kept and thus attracted numerous tourists.
However, that's only a portion of St. Moritz's history. This is also the place where Winter Olympic Games were held twice, and it is also home to Albula and Bernina routes which have a place on UNESCO's World Heritage List. It's also worth mentioning that St. Moritz is where the first Palace Hotel was built and where the very first Swiss electric light was turned on.
Now, how would that look like as a co-working space view? Well, here it is, lighting up the final hours of work.
5. Appenzell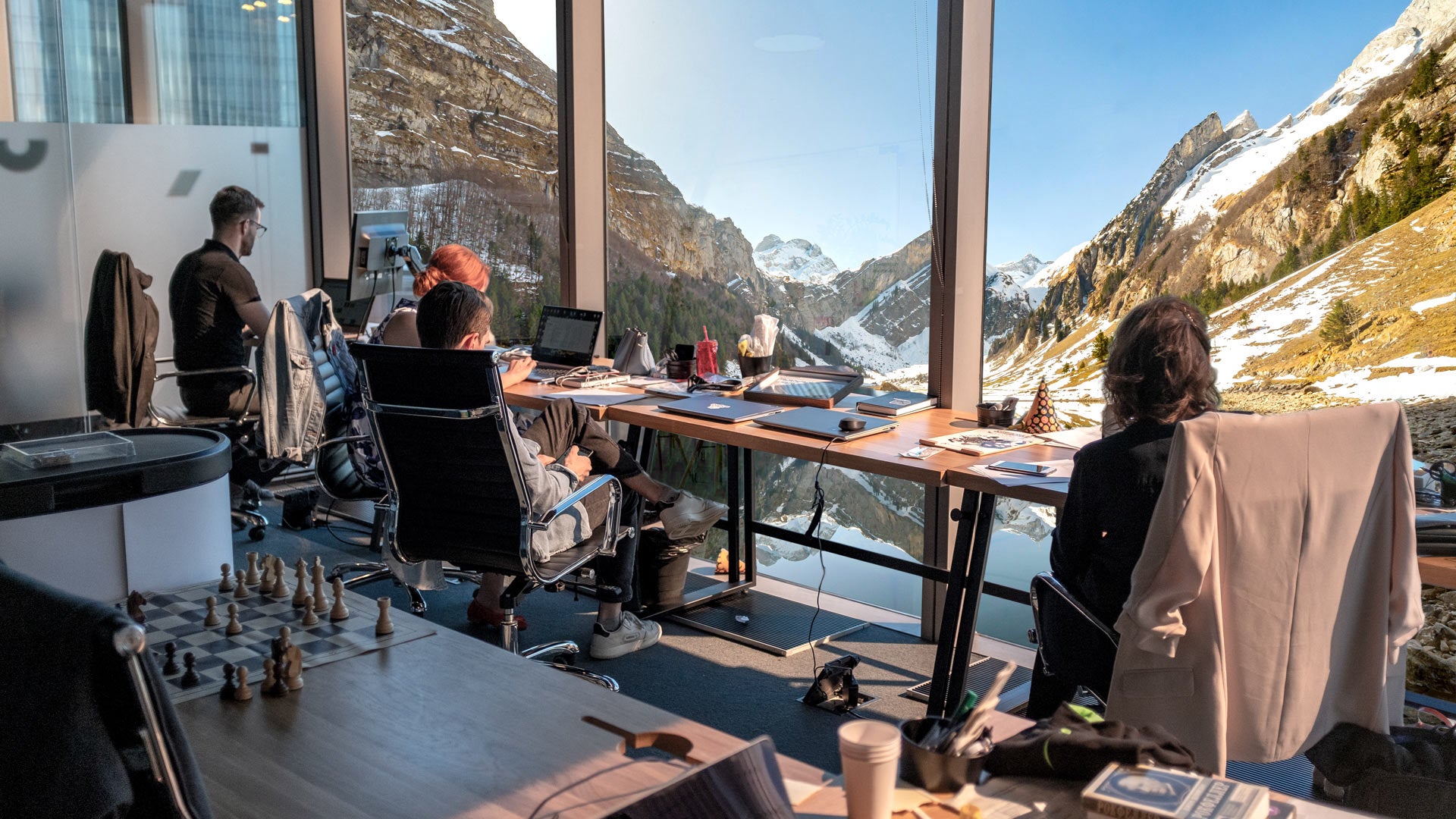 As the political capital of Appenzell Innerrhoden, Appenzell village is ridden with historical sites and eye-catching views. Whether it's the colorful house along its main street, the artwork on Adlerplatz, the village square, or the quaint parish church, Appenzell's biggest village offers a sight for sore eyes on each turn.
Famous for its traditional values, the village of Appenzell is many tourists' tickets back in time. Apart from the carriages that strut along cobblestone streets, Appenzell is also known for being the birth home of chocolate milk, and Milton Hershey who's chocolate still lives in fame to this day.
Given that this is a fairy tale type of village, the view of a co-working space would offer in it doesn't disappoint.
6. Château De Chillon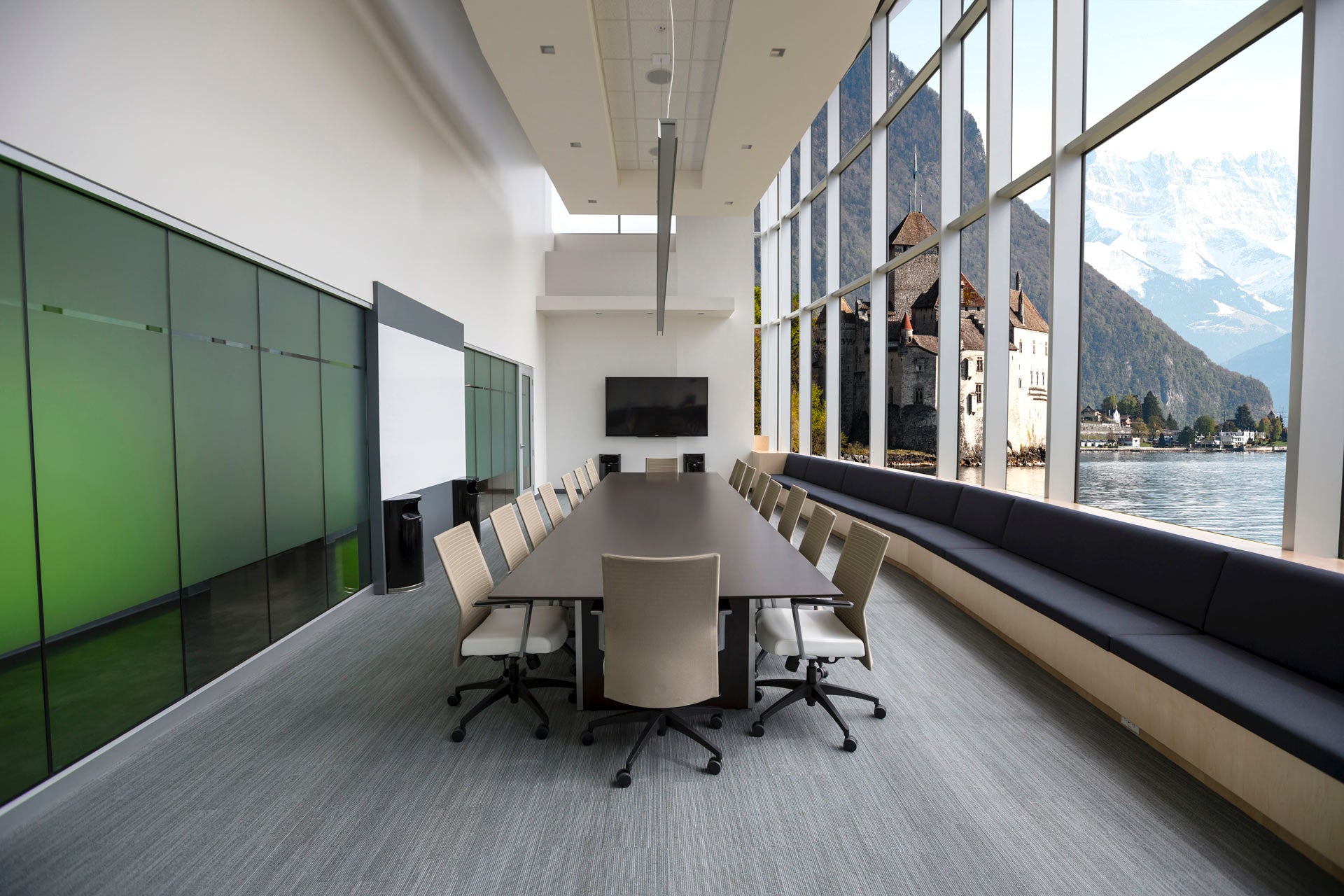 The Chillon Castle is an island castle that rests on the eastern end of Lake Geneva. Its beauty and historical significance make it one of the most visited castles in not only Switzerland but Europe as well.
As a well-known tourist magnet, Château De Chillon (french for Chillon Castle) has been a source of inspiration for many writers, including here Alexandre Dumas, Victor Hugo, Jean-Jacques Rousseau, Lord Byron, among others. In 2005, this monument that serves as a home to many pieces of art and chunks of history attracted around 300,000 visitors annually.
Today, the castle is open to visitors, with numerous courtyards, rooms, and halls that carry the past on them. However, what would the castle look like if it were a few meters away from your coworking space? Here's a sneak peek.
7. Chapel Bridge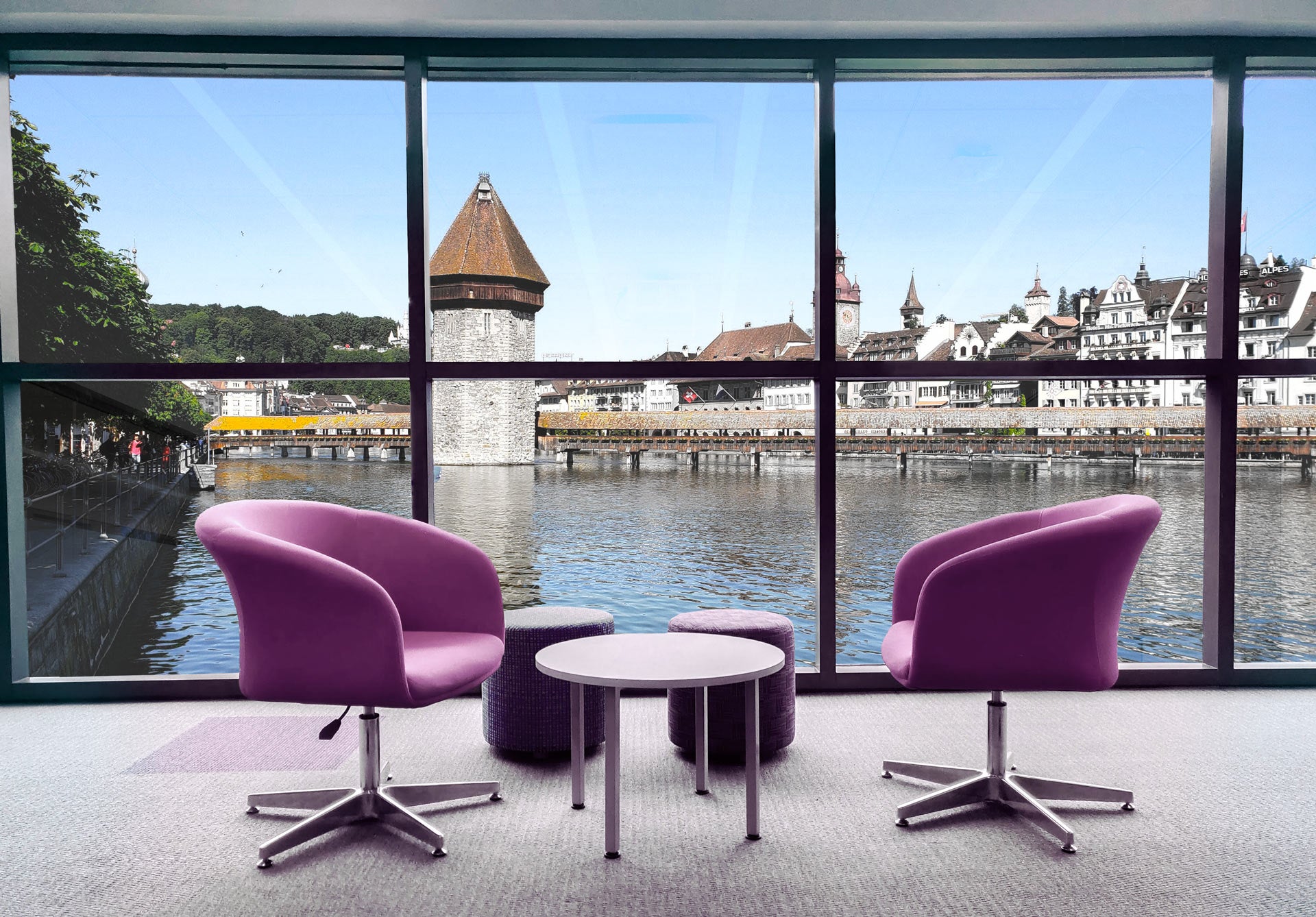 Kapellbrücke, or the Chapel Bridge in English, is situated in central Switzerland, namely in Lucerne. Just as the name suggests, it is a wooden bridge leading to the nearby St. Peter's Chapel. It takes the seventh position on the list of famous Swiss sites; However, it's certainly not the least, remaining the oldest wooden covered bridge in Europe and the world's oldest truss bridge.
Given its history and that it has the water tower (which a water bridge that has survived years of being used as a prison, torture chamber, and local treasury), it makes the list of Switzerland's tourist hot spots. Initially built in 1365, it was almost burned down in 1993, and it has been reconstructed shortly thereafter in 1994 and open to the public again. One of Chapel Bridge's main features is the painted interior triangular frames, which now have only 30 surviving paintings from the original 158.
With history and visuals as rich as Kapellbrücke's, having it as an office view would certainly have a magic to it. Here's what it would look like.
Switzerland is a country known for its cultural diversity, tasty chocolate, trains that are always on time, and most of all, landscapes that can rest even the most tired pair of eyes. Whether it's alpine mountains, ancient historical landmarks, or rivers that flow freely, it's impossible not to acknowledge how rich Swiss nature is. With that in mind, having the most famous views outside the space you rented for working can be a soothing experience, and these pictures go to show how much can be achieved with a little imagination and architecture.
---
Brand Note
Do you offer spaces for coworking, do you have a seminar room for booking or an available forest hut? Jamatu provides you with innovative functions so you can rent out your room with just a few clicks.
This article first appeared here: https://jamatu.com