I'm sitting in Gurgaon's Hard Rock Cafe with 35 fans of Indian cricket idol Virat Kohli. They're the lucky ones invited by FanBox, a social engagement app by tech startup Privy Plex. Some cops enter and sanitize the place.
The cafe is in the heart of Cyber Hub, where about 250,000 professionals work or visit each day. Virat enters the cafe from the back door. Any hint of the presence of India's Test cricket team captain would have led to chaos in the food court, which alone sees a daily footfall of 20,000 people.
That's a price you pay for stardom. Virat Kohli, currently one of the world's best batsman and an idol for millions of cricket fans around the world, can't go out and have coffee in a normal cafe. He admits he has not even seen the Taj Mahal because he needs so much security to protect him always.
Here in the cafe he looks relaxed in a blue t-shirt stretched over a muscular chest. He's in black capri pants and white shoes (without socks, of course). A huge tattoo covers his left arm. And he sports a sharp haircut.
He's sporting and easygoing with the excited fans in the cafe shooting questions at him. "How many tattoos do you have?" one of them asks. "I have 8 tattoos now. But I'm planning to connect some of them. So I may have only three left in some time," reveals Virat.
"Can I touch and count them?" asks a female fan.
He laughs it away.
Newfound love for startups
Tech in Asia sits down to interview him on his newfound passion for startups. He begins by correlating the game of cricket and building a startup.
"Building a new product is very similar to going out to play in a match. There is nervousness as well as a positive feeling about it," he tells me.
Virat is learning the art of entrepreneurship by building his own fashion ecommerce startup Wrogn and fitness center chain Chisel. And he does private fan engagements online and offline through Fanbox, as he's doing in the cafe. Virat has a chat room in the Fanbox app and also markets discounts of his Wrogn and Chisel brands through it.
Rising from the dusty bylanes of Delhi, Virat is now one of the highest paid sportspersons in India, reportedly charging around US$330,000 per day for an endorsement.
But he understands that it's ephemeral. And that's what has led him to dabble in the exciting world of tech startups.
"There is something in the mind saying these are the odds that you might or might not do well," he says.
He uses that awareness of the odds to deal with the pressure when over 50,000 people in a stadium are chanting his name, expecting him to hit the next ball into the stands.
"Amidst all that nervousness, if you pull out a great run, it's a great feeling. And so many startups in India have had great successes [in a similar manner]," he says.
"Understand the consumer's need"
Hollywood star Ashton Kutcher has invested startups such as Skype, Airbnb, Foursquare, Hipmunk, Flipboard, and LikeALittle. Leonardo Dicaprio has invested in Rubicon Global, Mobli, Cue and Casper. "If you look at the West, a lot of celebs are investing in startups," he points out.
At the same time, he wants to do it his own way. "If you are a sportsperson, that will require a lot of understanding of what you want to do and what is the amount of your time and effort required," he explains. "It also needs an understanding of your own potential to make it big."
For him, tech businesses are an opportunity to explore new avenues and things he can "set up and grow over a period."
It also brings a mix of excitement and nervousness, which he loves.
Another iconic Indian cricketer Yuvraj Singh, who is a cancer survivor, has his own venture capital firm and has invested in over 11 startups including Moovo, Edukart, and JetSetGo. Cricket legend Sachin Tendulkar has also invested in internet of things startup Smartron and travel portal Musafir.
Virat wants to take it one step at a time. "I am in the process of understanding how the whole thing works… You have to learn the game first," he says. "When I invest in a startup, I'm looking at the long term future. I'm not willing to sell out in a few years."
"Only if saturation comes and you feel you can't contribute any more in it, then it may be time to let it go," he adds, munching on a snack of nuts.
He pauses to adjust contact lenses in his eyes, then continues: "I want to understand what people want in this day and age and what they really love. What are their requirements and how actually we can deliver it to them."
"Finding the right balance is important"
Close confidants say cricket became life's mission to him the day his father died at 3 a.m. in December 2006. He reported to the dressing room the same morning and scored 90 runs for Delhi against Karnataka. After his dismissal, he went straight to cremate his father.
Virat has crossed many milestones since then to reach the pinnacle of the sport. He's respected most of all for being able to deliver under intense pressure in a run chase time and again.
What can entrepreneurs learn from his success in cricket?
"Finding the right balance is very important in preparing for a big game or for business," he says. "If you are mentally in the right zone, you will play well whether in sports or in business."
Visualizing is a key aspect of his preparation.
"Before a game, I visualize my game plan and who will be the bowlers," he says, adding, "Starting up can be very similar to sports."
"You have to visualize being in a consumer's position. You have to understand what you as a consumer would want. And whether the product you are developing would go down well. Are you making it too complex or too simple. You need to find the right balance."
The discipline to succeed
Another parallel he draws is of trying out new techniques in this game which don't always work – just as new products often fail after months of hard work.
"I keep it simple and just go back to the basics. It might be very cliched. But you have to start doing those basic things to get back in the game," he says.
Virat Kohli is the Novak Djokovic of cricket in his fitness level, with an unvarying, strict regimen of diet and exercise.
"Over time, when you grow older and understand your own body or your mental setup more, you can take better decisions and experiment," he adds, again drawing a parallel with entrepreneurs or developers adding unnecessary features to products which were yet to mature.
How to maintain peak performance and avoid burnout
In sports and in entrepreneurship, people have been known to burn out just after or before their peak. Virat puts it down to a lack of balance or too much distraction.
"When things start working out, you may start doing 15-20 different things at once. It's very important to know what and how much you can manage at one time," he says.
Virat has been an ambassador to brands such as Adidas, Pepsi, Audi, Vicks, Boost, TVS, Tissot, Herbalife, and Colgate. And he has a busy cricket and training schedule to manage alongside.
"When things start to go bad, it's an indication to take it slow. It's important to know how much effort you can give anything at one time," he advises startup entrepreneurs, who might be distracted by delving into too many things simultaneously.
"Probably when you are freed up from one thing you can put ten times the effort. So it's best to be patient. That's why I choose to do only 3 to 4 key things in life at one time," he tells me from his experience.
Switching off from the game or business is vital to him. "If you don't take enough rest, if you don't get back from the game when it's needed, there is a high chance of early burnout."
For cricketers the pressure becomes even higher when their lives are constantly under the scanner of fans and media along with pressure to give 200 percent on the field in trying conditions.
"There can be so much distraction. You can be mentally struggling with so much cricket being played at once. It's important to get away from everything and do what you really want to do," he says.
"You should remember where you came from"
Virat admits he got carried away with his initial success but pulled himself back.
"Some people tend to get carried away with things that are ephemeral. I have done those things when I was younger. But I pulled myself back just in time," he adds.
"My sports now is all about not getting carried away, being dedicated, and not getting too far ahead of myself. That's what will give me success."
It's a caution he passes on to young entrepreneurs who achieve early success.
"Nobody can coach anyone on this. You can absolutely choose to destroy what you have made
by getting carried away and not being yourself."
Kohli's father was a criminal lawyer and his mother a housewife. They lived in a rented apartment in Delhi most of their lives.
"It's also being aware of how you got here, where you came from, and what are the struggles you've had in life when you were younger," he says. "That's what keeps you grounded."
"I hate losing"
After the interview, Virat resumes his genial chat with fans in the cafe. It's part of his Fanbox experience, which is being sold on Flipkart for INR 17,000 (US$250). The fans get a Moto G phone, an autographed bat, and a chance to chat offline and online with Virat on the app created by Privy Plex, a startup founded by Ahmed Arab and Upamanyu Mishra.
Virat treats every question with respect and displays a ready wit interspersed with thoughtful answers.
Someone shouts "Cheeku" from the back. "Yes my nickname is Cheeku," says Virat. "But then I have hundreds of others too. My mum calls me by 50-60 different names depending on her mood. My brother calls me Viru."
"Can I take a ride in your Audi R8?" asks another fan.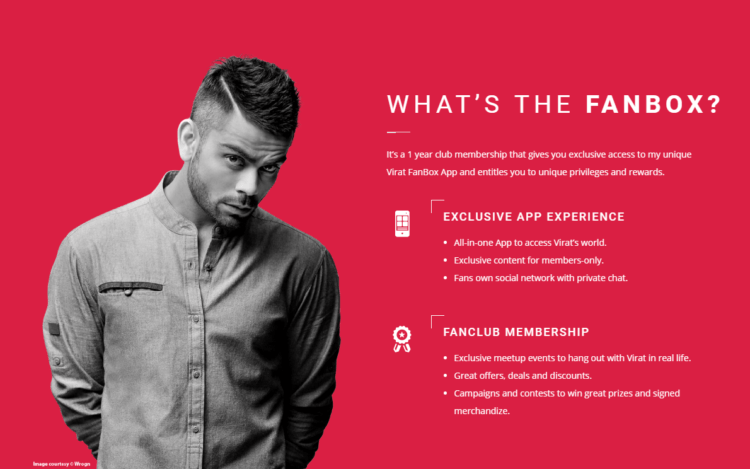 "No, I just sold it recently," comes the reply. Virat also explains that he has never roamed around Cyber Hub and maybe be can't.
Then comes a more serious question. "After you lose a game, what motivates you to go back and play?"
"I hate losing," says Virat. "It's difficult to take losses especially if you have played well. I sit down and think where we missed out."
Who is the person he turns to in downfalls or failures, comes the followup question.
"Even before playing for India, it was my family. My brother and my father used to see all my matches," says Virat. "Now it's my coach and my brother. Even before I talk to anyone every morning, I talk to my coach about how the day is going to plan out."
We begin to get a sense of the planning, discipline, and intelligence behind the super stardom of Virat Kohli. There's every reason to think he will bring the same purpose and balance to his innings as an entrepreneur and investor.
(The article was first published on Techasia.)